We have made designing and controlling light simple and within everyone's reach so as to allow large-scale application of its incredible benefits. We did this by combining it with digital technology, not only to control it but also to change its shape in an extremely natural way.
How we control our fixtures
| | |
| --- | --- |
| DALI | The fixture is equipped with a driver that provides a connection to a BUS DALI system for overall management of the system. |
| Targetti Control powered by Casambi | Fixtures are controlled via wireless or Bluetooth by a smartphone or a tablet without the need for any other hardware. For Casambi on board fixtures or those equipped with DALI drivers. |
| Dimm on board | The fixture is dimmed using a commutator located inside it. |
| DMX | RGB and RGBW fixtures are controlled using a DMX protocol. Software and touch screen interfaces are available to manage and create static and dynamic lighting scenes. |
DALI
DALI is the acronym for "Digital Addressable Lighting Interface", an international standard protocol compliant with IEC EN 62386 that guarantees the interchangeability of dimmable electronic power supplies from different manufacturers. It is used in building automation. It can be used for medium-sized and large projects and entails a preventive design with special cable routing. Many fixtures in the Targetti collection have DALI drivers and are therefore compatible with home automation systems that integrate lighting into building automation.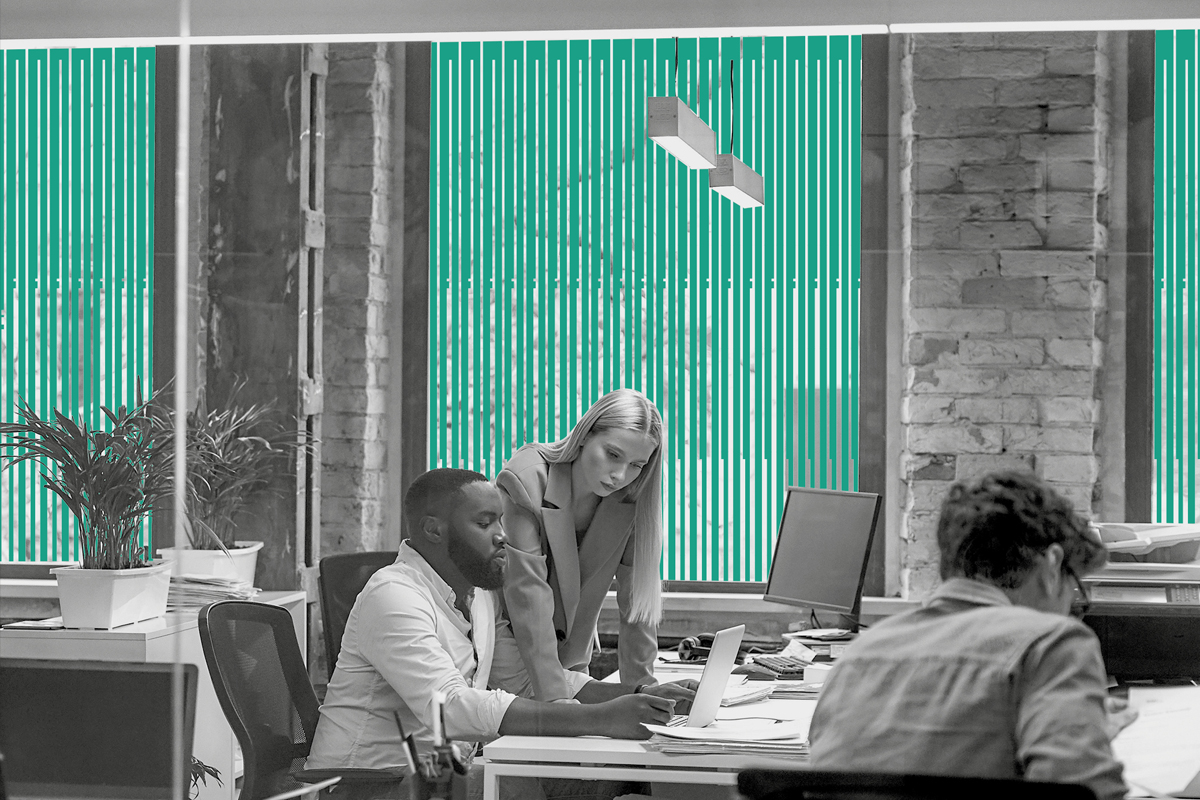 Targetti Control - Powered by Casambi
LMS is the Targetti wireless home automation system that can manage even the most complex lighting systems. Designed for the consumer and the professional market, LMS is the result of the combination of components from Casambi - a leading company producing wireless lighting control solutions - and Targetti light fixtures.
iOS and Android apps
Thanks to the intuitive simplicity of the app developed by Casambi for iOS and Android, LMS ensures system operational readiness. You just need a phone or another mobile device and anyone can create and manage a lighting network singlehandedly by controlling every fixture individually or in groups depending on the needs and the functions required. Managing the system using a standard handset is also made possible with the use of specific accessories.
Extreme usability
The ease of use and programming of the system makes it easy to manage without the use of special control units or assistance from specialised technicians. The application recognises and associates the Targetti fixtures that are installed in the space automatically by using the BLE (Casambi Bluetooth Low Energy) proprietary protocol to communicate with the various fixtures. No Internet connection is necessary except for synchronisation functions or remote access.
Mesh self-healing network
LMS allows the final user to generate adaptive and multipoint networks: "adaptive" because every fixture can work as a buffer for all the others, adapting automatically to various contexts to optimise control signal propagation; "multipoint" because you can connect up to 127 fixtures on each network without any limit on the number of networks. The result is strong, reliable and affordable networks that manage the system, the profiles of individual fixtures and access rights.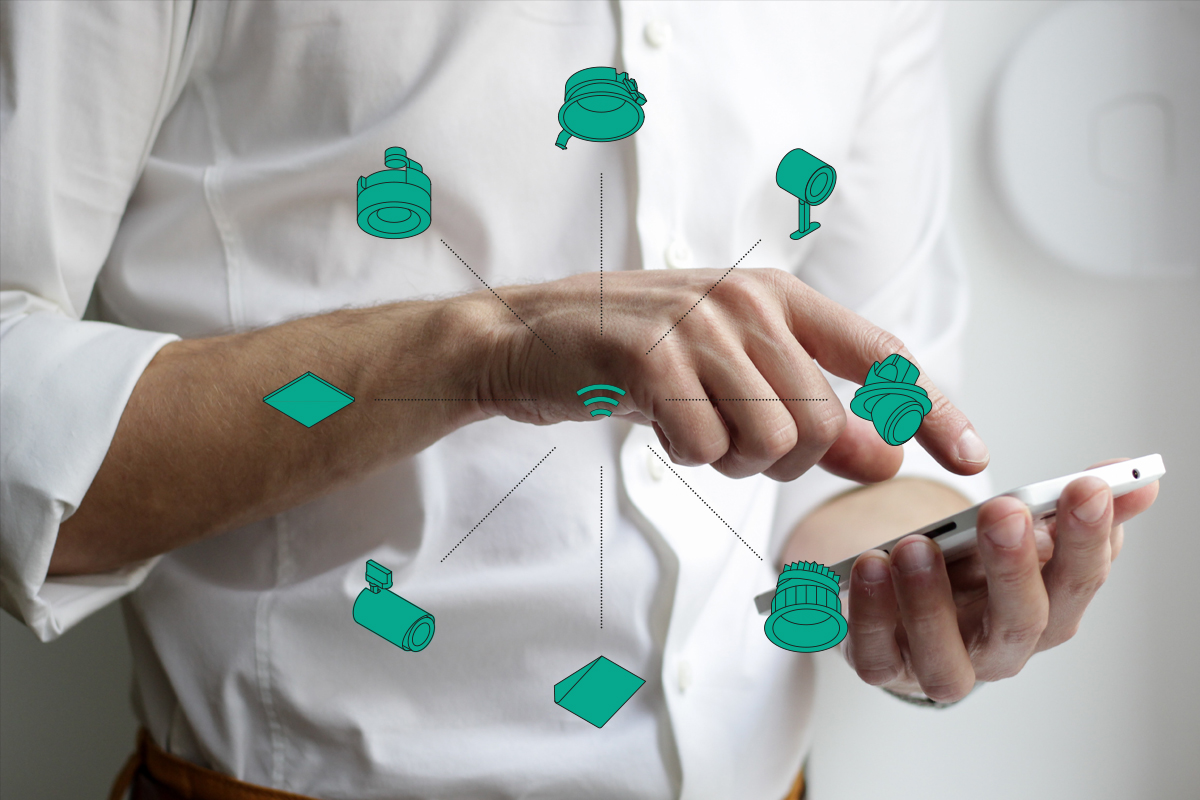 Dimm on board
The simplest system for dimming light fixtures. A commutator inside the fixtures makes it possible to intervene manually and regulate the intensity of the light emission to modulate the light according to actual project needs.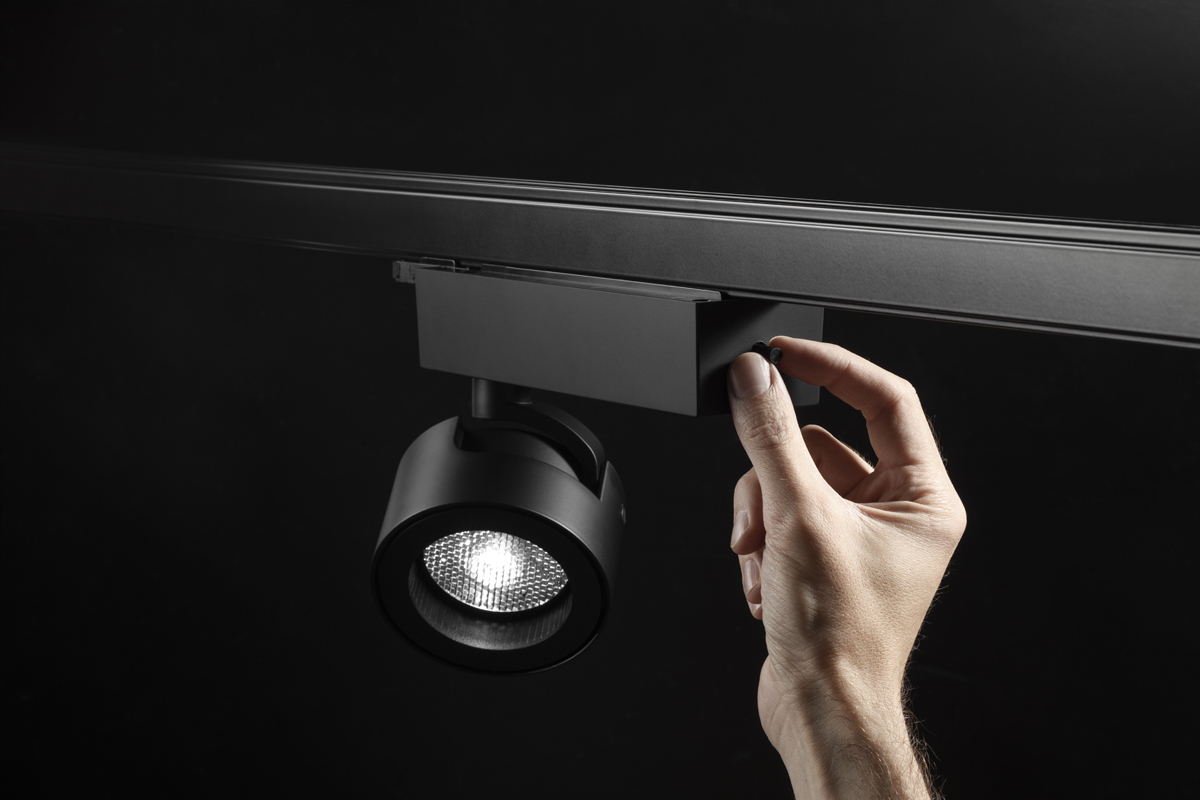 DMX
For programming and control RGB and RGBW fixtures use the DMX 512 digital protocol, the most widespread and proven standard for smart light control. This allows for complete compatibility with other fixtures on the market and makes a wide variety of accessories available at a reasonable cost.
Fixture power supply
LED RGB and RGBW fixtures need special power supplies with PWM (Pulse Width Modulation) technology that makes it possible to regulate the light intensity separately of primary colours. In larger RGB and RGBW products the electronic power supply is always combined with the one used for dynamic control (DMX); in this case the fixtures are self-sufficient and defined as "smart"; smaller fixtures on the other hand require an external device called a SECS BOX that can power and control several fixtures at the same time. RGB fixtures and drivers are compatible with the DMX control protocol and are fitted with a dipswitch for address programming and operating modes. RGBW fixtures are compatible with the DMX – RDM protocol that allows for remote programming via the data line.
Automatic operation
To programme colour-changing light scenarios an external device is usually needed. Thanks to the "Easy-Run-Menu" function the so called "intelligent" RGB fixtures and the SECS drivers can operate automatically performing dynamic colour sequences without any external controller. Through internal dipswitches it is possible to select among 16 different chromatic sequences: - 8 static colour scenarios - 8 dynamic colour sequences - 5 different playback speed values (30sec, 80sec, 160sec, 320sec, 740sec).
"Master/slave" - Configuration
RGB Fixtures can be configured in a master/slave configuration where a virtually unlimited number of fixtures is controlled by a main one. In case of "non intelligent" fixture the master/slave configuration is achieved through a SECS BOX.